Do you suffer with neck pain, radiating arm pain, or sciatica? Have you been diagnosed with herniated or degenerated discs in your neck or lower back? Is your doctor recommending surgery? If you answered yes to any of these, then spinal decompression therapy might be beneficial to you!
Computerized spinal decompression is a non-surgical traction procedure that can be effective in the treatment of:
herniated/bulging disc
degenerative disc
facet syndrome
sciatica
post-surgical patients
cervical (neck) and lumbar (low back) compression syndrome
radiating arm pain
At Davis Chiropractic Specialists, we utilize Triton DTS technology to gently and incrementally decompress the affected spinal region.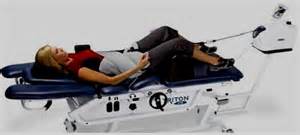 While lying on our comfortable table, you will be fitted with the traction support system, a series of padded straps and belts that stabilize your body during the treatment. Dr. Davis will program the correct amount of traction for your body and condition and you will simply lie back and relax through the procedure. Many patients fall asleep!
If you would like more information about this revolutionary treatment, call the office today to schedule a consultation!